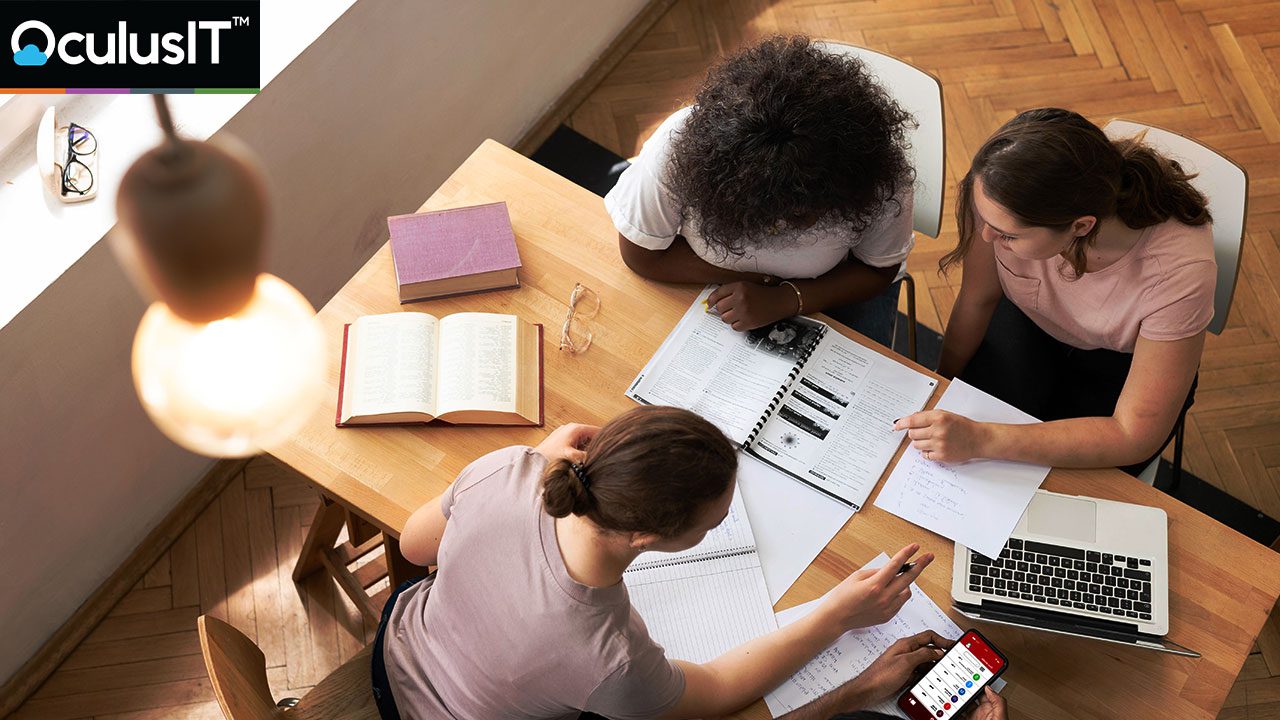 What's Trending for 2023: OculusIT's Top 5 Trends for Higher Education IT Teams 
January 13, 2023
With the ever-changing IT landscape, keeping up with the latest trends is no small feat for higher education CIOs. However, being mindful of the latest industry trends can help you and your IT team prepare for success this semester. We looked at data and spoke with our CIO partners across client institutions to identify five trends that higher education IT teams need to be prepared for in 2023. 
Increased emphasis on online learning and remote learning
At the start of the pandemic in 2020, higher education as an industry grew more in three months than it did in the past two decades combined. Institutions were forced to embrace online and remote learning and have since become the norm. Even with students returning to the classroom, they expect to see online course options that cater to their unique schedules. This has become even more important for non-traditional students and commuter schools. However, as these online learning platforms continue to evolve, higher education IT teams must support the infrastructure and necessary technologies to be successful.
Cloud Adoption 

By moving to the cloud, institutions gain access to technology resources on an as-needed basis instead of investing and maintaining their own hardware and software. The best part about migrating to the cloud is that a school can then receive third-party cloud management support to ensure security, general maintenance, and more. This is extremely important for institutions with small teams or limited resources that cannot dedicate headcount for these specific roles. We expect higher education IT teams to continue adopting these cloud technologies in the coming years. 
Ransomware

This is one trend that is unfortunately not going away anytime soon. In 2022, higher education saw an increased number of ransomware attacks, costing colleges and universities hundreds of millions of dollars; and in some instances, ransomware attacks forced institutions to close their doors for good. The quick pivot to online learning left schools scrambling to strengthen infrastructure and cybersecurity posture. But the reality is that many were left with – and are still experiencing – security vulnerabilities. As a result, more and more institutions are looking for an affordable and efficient solution to maintain cybersecurity at their university. We see a rising trend of HE institutions taking advantage of 24×7 managed security operations that can help detect and stop ransomware before it spreads. 
Artificial Intelligence

The constant pressure to innovate and stay ahead of emerging technologies on campus is one of the things that keep CIOs up late at night. And of all these emerging technologies, artificial intelligence, and machine learning top the list. This year, we expect Higher Education IT teams to continue exploring the benefits and risks of artificial intelligence and machine learning platforms for their institution. When implemented effectively, it can greatly enhance the student experience, providing personalized learning and academic support, self–service, and even career services for alumni.
Data Analytics

Data – it is at the core of everything we do in IT. As a result, we are seeing more and more Higher Education IT teams making data-driven decisions to help drive student and institutional success. By analyzing student data, IT teams are identifying patterns and trends to find improvement areas to enhance student engagement, improve their academic experiences, and even drive enrollment. Data is also being used to analyze administrative turnover, improve professor responsiveness, tailor courses based on evolving labor market needs, hyper-target alumni donors and incite action for advancement offices, and more. The possibilities are endless, and we anticipate data analytics to be a large part of the conversation moving forward. The reliance on data and its growing use does create security challenges and other compliance considerations, such as GLBA and GDPR.
What trends are you seeing at your institution that can make an impact on how you do business this year? Is your team looking for additional IT support to drive success? Let us know.