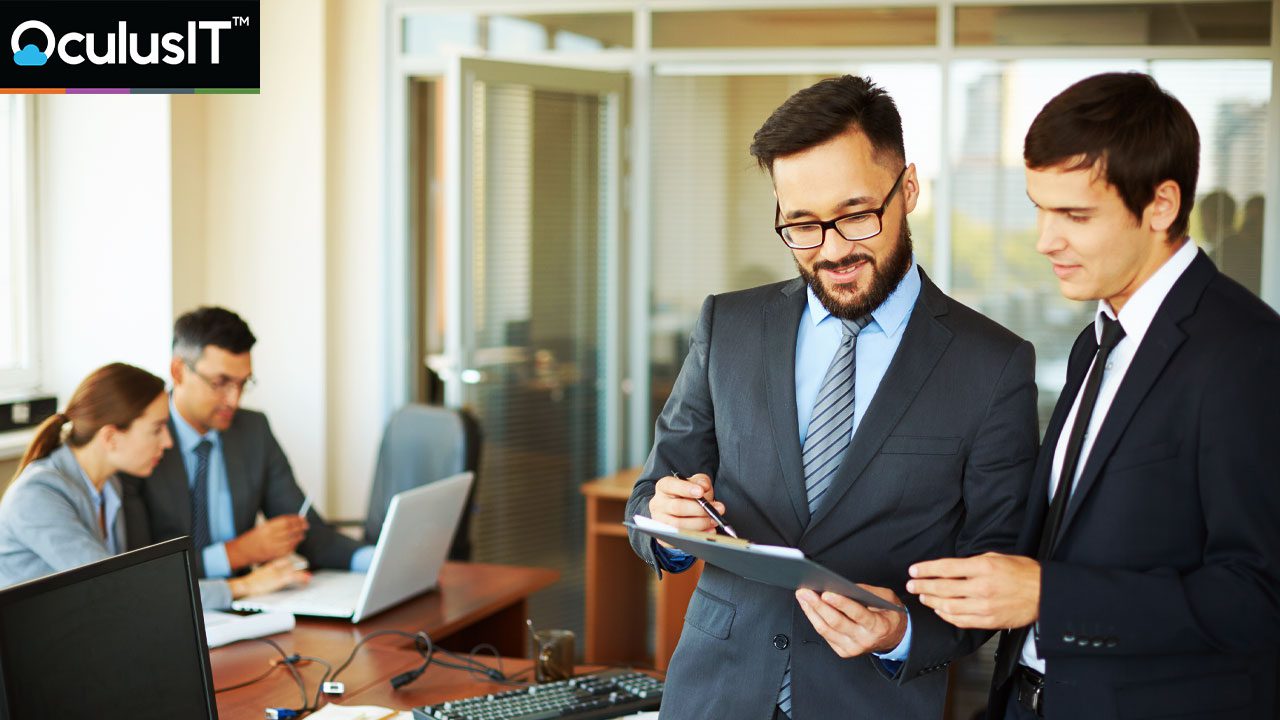 Top 3 IT Staff Augmentation Trends for 2023
Jan 31, 2023
In the wake of the Great Resignation and a highly competitive job market, staff augmentation has become a buzzword in the evolving IT landscape, particularly in the higher education industry. Trends show that higher education institutions seek staff augmentation services to improve agility, efficiency, and scalability. The post-pandemic talent crunch has further ushered in higher ed's need for staff augmentation providers, and Google data indicates a spike in keyword searches such as "IT staff augmentation companies near me" on the rise for colleges and universities across the country.  
What is Staff Augmentation? 
Historically, when an institution looks to grow its IT team, it will promote internal candidates or hire outside talent to join the payroll. However, many institutions can't afford to onboard new hires.  
As institutions seek to fill short-term and long-term IT roles, OculusIT has been closely following the trends specifically for Staff Augmentation. Staff augmentation is a hiring model based on outsourcing these roles to a third-party company to fill the on-campus IT roles, often in a remote capacity. This approach is affordable, and institutions gain access to a vast global pool of talent with highly specialized skills. 
1: Increase in demand for CISOs and Compliance Officers 
Most higher education institutions are investing their budgets to fill compliance-focused staff roles in response to the increasing complexity of the compliance environment. Institutions realize that cybersecurity and compliance touch all aspects of IT operations. To address compliances, including GDPR, GLBA, EITA, and NIST, Chief Information Security Officers (CISO) are assuming a more significant leadership role on campuses. 
The recent amendments by the Federal Trade Commission to the Safeguards Rule for Customer Information under GLBA have made it mandatory for all public and private Title IV institutions holding non-public or personal data to have a dedicated CISO before the extended date of June 9, 2023. Staff hiring data for higher education shows institutions are still racing to fill open CISO roles before the deadline. Meanwhile, according to recent research by Heidrick & Struggles, CISO salaries rose by 15% in 2022, a trend expected to continue through 2023. 
A staff augmentation strategy can help colleges and universities gain access to highly talented CISOs without breaking the budget. 
2: Increased shift toward data-focused roles 
Higher ed institutions have opened their budgets and are hiring additional staff for roles like data architects and data engineers. In 2023, robust data and analytics teams will become commonplace in higher ed institutions. Another significantly visible change is increasing emphasis on data training and literacy across every functional unit of campus, including non-data staff, administrative workforce, and institutional leadership.   
3: Need for protection of personal data   
According to Emsisoft's Year End Report, at least 44 colleges or universities and 45 US school districts were hit by ransomware attacks in 2022, a substantial increase from the previous year. According to the 2022 Cost of Data Breach Report from IBM and Ponemon Institute, the average global cost of a breach increased to $4.35 million in 2022, up from 4.24 million in 2021. The average cost of a breach in the United States is even higher at $9.4 million. Amid cyberthreats becoming more prevalent and complex, institutions are looking to fill positions solely focused on cybersecurity. The most in-demand cybersecurity jobs include cybersecurity engineer, cybersecurity analyst, network security architect, security software developer, and penetration tester, according to TechTarget.com. 
In a Nutshell 
Since the COVID-19 pandemic began, institutions have been functioning on hybrid/remote working models, a trend projected to continue through 2023 as the expectation for a remote learning classroom component has risen. The aging workforce, coupled with high attrition rates, is another challenge that higher ed institutions grapple with, but unfortunately, they don't have the pipeline to replace the talent within existing budgets. Incorporating greater flexibility with working hours, work environment, work-life balance, and where the work is performed needs to be incorporated into the work culture of higher ed institutions. 
Staff Augmentation Services from OculusIT 
OculusIT is a leading provider of IT staff augmentation services to higher education institutions across North America. We provide human resources for various IT roles across higher education, encompassing leadership, ERP, infrastructure, security, and reporting. We understand that hiring IT resources in-house is costly and time-consuming. We offer on-demand IT staff augmentation services to help you seamlessly fill core and business-critical positions to improve your institution's operational efficiency and ensure business continuity.  
If your institution needs access to higher education's leading IT experts to support your existing staff, let's chat.