Transforming Data Centers

to Keep Pace with your Growing

Campus Needs.

Originally, data centers lacked the scalability to match up with the growing needs of higher education institutions or compete with cloud technology. Let's change that now.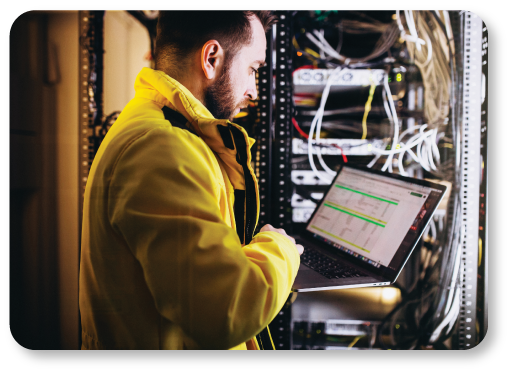 Data Center Services
Colleges and universities today are leveraging technology and stretching their data center capabilities via virtualization. OculusIT believes in building next-generation data center technology that works through orchestration and distribution capabilities to provide end-to-end IT services, pool data center resources, develop infrastructures with automated operations, and create an integrated, proactive IT framework. We help reimagine existing data center environments with scalability, flexibility, and transition into next-gen service delivery, including initial consultation, augmenting operations, and complete campus modernization.
DCaaS from OculusIT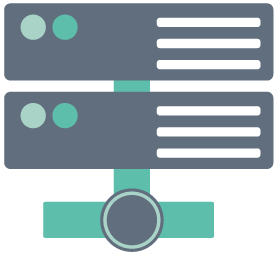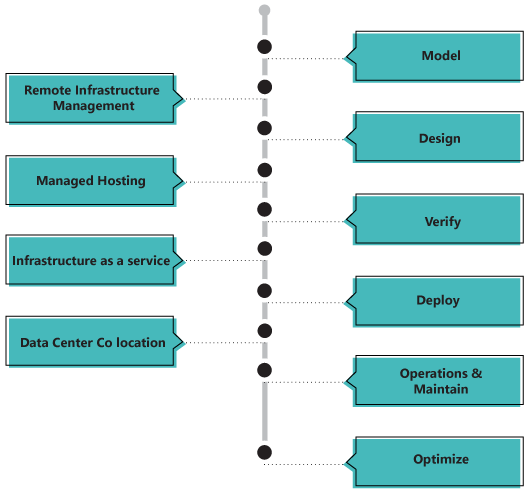 Advantages of DCaaS from OculusIT
Lower Infrastructure Cost
Flexible Delivery Models
24X7 Contact Centre and Monitoring
Fully Secure and Agile
We help drive the journey to the Cloud by virtualizing networking and storage and laying the foundation for virtual data centers to help the campus achieve agility and save costs on maintaining heavy infrastructure. We offer:
Network virtualization: Link the available resources in a network by separating the bandwidth within channels, each assigned to a server in real-time.
Storage virtualization: Merge physical storage from various network storage devices into a single storage medium managed from a central console.
Server virtualization: Spare the users from managing the complicated details of server resources by optimizing resource utilization and maintaining the capacity to increase later
We build the most robust, most secure, and reliable infrastructure on the Cloud. A hybrid ecosystem with primary and virtual data centers has multi-fold advantages that help colleges and universities scale their storage as per requirement. Our Cloud migration approach includes:
Lift & shift: Forklift approach to migrating applications to the Cloud
Re-platform: Migrations to move assets to the Cloud with a small amount of up-versioning using a managed database offering or the addition of automation-enabled auto-scaling.
Rearchitect: Deep domain expertise required for rearchitecting on the Cloud
DCaaS includes end-to-end management of the data center environment, including remote infrastructure management, managed hosting, Infrastructure as a Service, and data center colocation. We offer the following services:
Remote Infrastructure Management
Managed Hosting
Infrastructure-as-a-Service
Data Center Colocation: Some of the benefits of partnering with OculusIT for Data Center as-a-Service are:
Lower infrastructure costs
Flexible delivery models
Fully secure and agile offering
24×7 monitoring and support
We help higher education institutions move beyond simple backups to ensure their workloads are protected and tuned to the campus's priorities. We partner with leading Cloud Service Providers for the best DR and Business Continuity Planning to protect the applications. We offer:
Work area recovery
Hardware recovery
Disaster recovery ability assessment
System recovery
Recovery planning report
Infrastructure recovery services
We help leverage advanced data protection and security capabilities, mitigate data risk, ensure backup of critical information and reduce the total cost of a data breach. We offer:
Security: The data is encrypted over wire and stored within our data centers, ensuring that the data is highly secure in transit and at rest.
Highest data availability: With two copies of data, the local copy ensures faster recovery, the remote copy provides redundancy, and with tape off-site, there is long-term retention of data.
Seasoned professionals: We have skilled resources to help off-load mundane backup management activities and get rid of monitoring backup jobs.
Flexibility: Our flexible models allow the campuses to scale as the data grows and provide predictable costs and reduced Total Cost of Ownership (TCO).
Assurance: We provide 24×7 monitoring of backup processes, thus ensuring high backup success rates.
We help deploy a quick, reliable way to replace or expand traditional data centers through containerization, enabling to expand storage as per the campus's needs and reduce operational costs by half. It further helps by reducing power consumption and maximize efficiency. Some of the benefits of using containerization services from OculusIT include:
Faster deployment
High integration and reliability
Fully configured architecture
Efficient on energy saving
Sophisticated monitoring and management solution