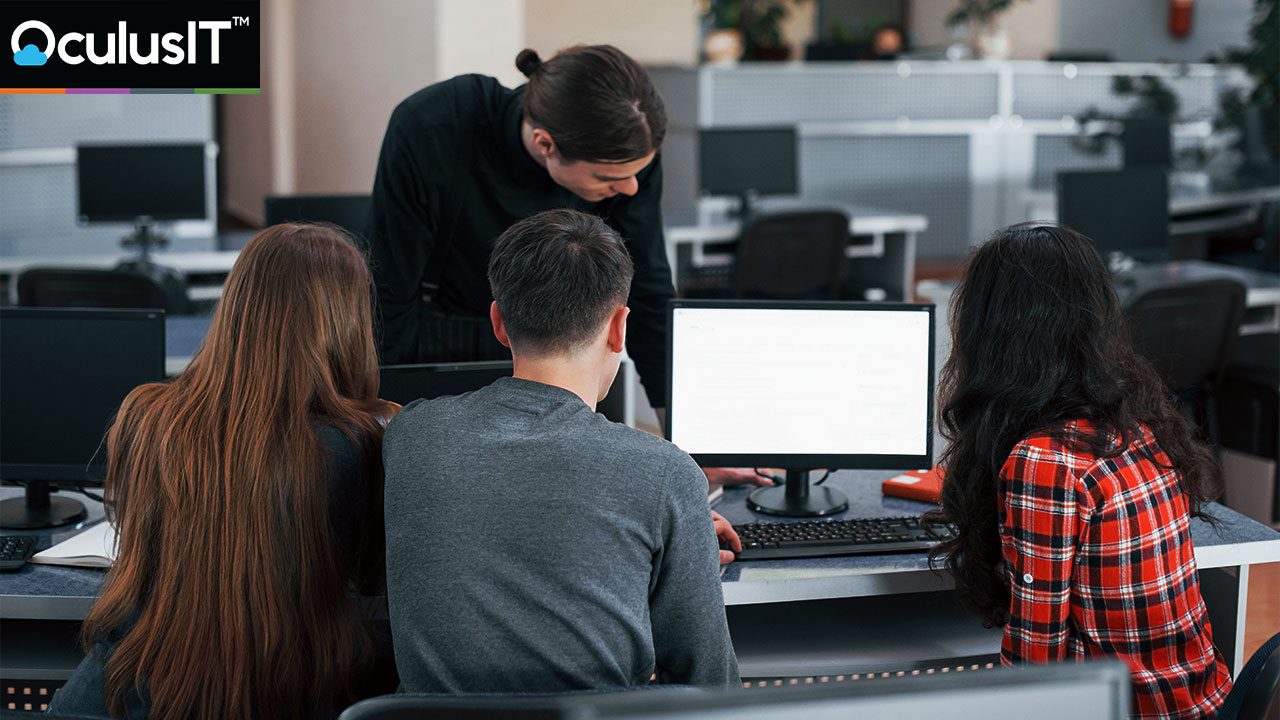 Accessibility For All: How Your IT Team Can Help Support Equity through Digital Learning
April 28, 2023
Providing equal access to information and educational materials in the classroom should be a campus-wide priority. Campus IT Departments play an important role in creating equity in higher education by ensuring digital learning platforms and classroom tools are accessible, inclusive, and supportive to students of all abilities and disabilities.
With accessibility becoming increasingly important, we've identified five ways your campus IT department can help support accessibility in digital learning.
Identify Barriers to Accessible Learning
Conducting an accessibility audit should be one of the first steps your team takes to understand existing barriers to accessible learning. Familiarize yourself with accessibility guidelines including Web Content Accessibility Guidelines (WCAG), the Americans with Disabilities Act (ADA), and the Individuals with Disabilities Education Act (IDEA) at the onset of any accessibility audit. Your team should determine the digital content and tools included in the audit, considering institutional websites, learning management systems (LMS), mobile applications, support software, and any digital products that are used on campus across departments and schools. Third-party auditing tools can assist your team, but you should also use screen readers and voice recognition software to further test the accessibility of your digital content and toolset. Once you've identified the barriers, align on a remediation plan and timeline to repeat the audit to ensure identified issues have been resolved on a routine basis.
Provide Accessible Technological Platforms
Your IT department should ensure that the technology used on campus (both in the classroom and virtual learning environments) is accessible to all students and faculty/staff, including those with disabilities. This may involve providing assistive technology such as screen readers, alternative input devices, and text-to-speech software.
Train your Faculty and Staff
Creating equity begins with educating your team, faculty, and institutional staff on the importance of delivering accessible content for all students, faculty, and staff, regardless of their abilities or disabilities. Digital content including online course materials, videos, and documents should be designed with accessibility in mind and can involve using accessible formats such as HTML and PDF, providing alt text for images, captions on all footage, and making transcripts available of audible digital content. Your IT team should consider training workshops, webinars, and even online tutorials as part of your on-campus training plan for any student-facing roles from professors to teaching assistants and even administration.
Promote Digital Literacy
Your campus IT team plays an important role when it comes to promoting digital literacy to the student body. Many students may not have access to accessible technology before attending your institution and will require additional support to learn these new tools. By offering open office hours, student workshops, and campus resources to educate students, you will instill confidence in the technology and develop their digital skills, positioning them for success.
Collaborate with On-Campus Disability Services
Your IT Department should be in lockstep with on-campus disability services to ensure all students have the appropriate technological support needed for success both in and out of the classroom. We're seeing out-of-the-box trends like theatre departments having the script on screen during live campus productions, adaptive design classrooms with technology tailored for students with sensory disabilities, and even synchronous and asynchronous communication methods for virtual classrooms. The supporting technology is ever-evolving and IT teams that closely collaborate with disability services will be able to best provide for their constituents.
It's important to note that creating an accessible and inclusive digital learning environment benefits more than just those with disabilities. Information provided in multiple formats has proven valuable to all types of learners. Closed captions on video and audio transcripts are helpful for students logged in from noisy locations. Students whose second language is English can benefit from simple language, clean visuals, and intuitive navigation. Voice-to-Text technology is used by all more than just the blind.
Ultimately, addressing student differences in teaching and learning styles will be an asset to campus-wide curriculum, creating a more inclusive environment in which all students can succeed.